Let's talk speakers
After using the Logitech Z407's on my outrun2 cab, I thought this would be a perfect set of speakers to use on this machine to give it that 2.1 upgrade.
Trawled through marketplace and found it half price compared to when I purchased mine at Bing Lee – #winning!
These days I try and go for a no-cut option to try and preserve as much of the original as I can, so the satellites were modified to use the same connector as the terminal on the original, fortunately for me, I already had some connectors and didn't need to order any overseas.
And the "P" connector on the cab has this. There is a switch on the cabinet to go from mono to stereo so I rigged up a little connector to allow me to use it
Mounting the satellites proved to be slighly challenging, but you can't go wrong with cable ties!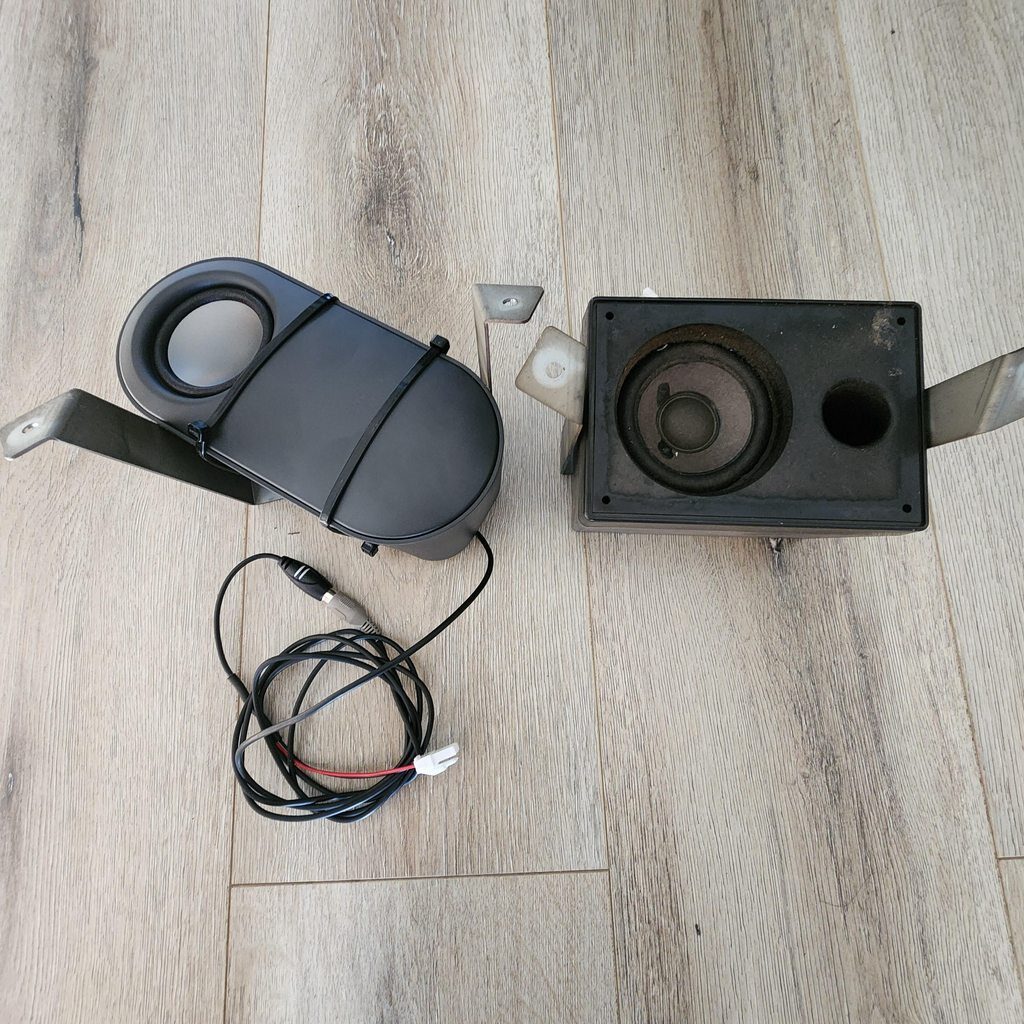 Mounted on the cab, it wasn't pretty, but "worked"
The clearance was tight and you would hit the monitor and tube if you didn't put the bezel down a particular way
Something odd was happening when I tried the CPS2 (first sound is when in "stereo" mode, then I switched to "mono", then back to "stereo"
With the help of FuryForce, we went back to the wiring schematic and found that there is a wire to the jamma edge that is common to the speakers irrespective of being in mono or stereo
I taped off the area where the – wire on the JAMMA edge and voila! Stereo sound works perfectly on the CPS2.
Editors note: speaking to Lion's Den Arcade, he pretty much confirmed exactly the findings I had. He stated that a lot of the CPS games even in stereo mode, it still tries to force sound via the JAMMA harness and that some E2s don't cut the mono sound completely with the switch.
He recommended that the mono sound be cut off when using CPS 1.5/2/3.
Lastly, he stated on one of his E2's that has a Naomi amp, there isn't an issue, but the one with a Q Sound amp needs to have the mono cut off. It's so weird.
After seeing the cab lit up with the satellite in the speaker grill, I decided I couldn't be bothered having to deal with the light fall off and trying to mask it, so I'm just going back to stock speakers for now and adding a sega stereo amp which has been purchased from Zax (just waiting on shipment)